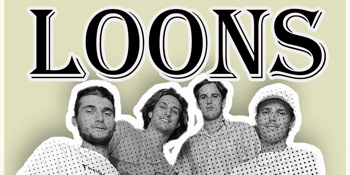 Loons w/ Ava Ganda, Dogshot & Grunt Julip
Ava Ganda, Dogshot & Grunt Julip
The Newcastle Hotel (Islington, NSW)
Friday, 27 May 2022 6:30 pm
Strap in for a high energy evening with Loons taking the stage after a high energy onslaught of local and travelling bands.
Loons is a four piece Alt rock outfit from Newcastle, Australia. Assembling in 2019 they are a fresh representation of what the Australian music scene is loving at the moment.
Playing shows in their home town has helped them to pick up solid following locally and as of late they are starting to grab attention all around the AUS.
When it all comes down to it the boys just want to play some music and have a good time doing it.
The fresh new band based in Newcastle, Ava Ganda is a four piece free from genre hungry to hit the stage with their fast paced electric sound that will have you dancing in one moment to chanting the next.
Get ready to see four thirsty fellas wipe themselves out to a soundtrack of their own creation and be right there doing it with them.
4 mates straight out of Miami, QLD. Dogshot are an untamed collection with daily noise complaints, empty cans scattered around the yard and a sound that'll make your ears bleed,
they are sure to turn some heads. Even your Nana will get around them.
The brainchild of four boys from out the back of burleigh, Grunt Julip is somewhere between alt and punk, they look how they sound and sound how they look.