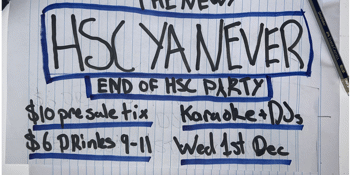 HSC YA NEVER ~ The Newy End Of HSC Party
The Newcastle Hotel (Islington, NSW)
Wednesday, 1 December 2021 8:00 pm
Tickets will be for sale at the door!
Pre-sale tickets are sold out! Join the waitlist >> https://www.thenewcastlehotel.com.au/end-of-hsc
Just announced! The Newy Schoolies Week 1 Party ~ Wednesday 8th Dec. Sign up for early access pre sale tickets >> https://www.thenewcastlehotel.com.au/schoolies-early-access
Pre-sale ticket holders must arrive between 8 and 9pm
HSC YA NEVER EVER EVER AGAIN!!!!
Newcastle's biggest END OF HSC party!!!
★★★★★★★★★★★★★
THROW ALL YOUR BOOKS IN THE BIN!!!! EXAMS ARE OUT!!! TELL PYTHAGORAS HE CAN GET STUFFED!!! BRING ON THE BEST SUMMER OF YOUR LIFE!!!!

WHO CARES ABOUT YOUR ATAR!! PARTYING AT THE BEST CLUB IN THE WORLD AKA THE NEWY IS ALL THAT MATTERS NOW!!!
We are putting on a big one to celebrate surviving the the worst 4 week of your life:
1. DJS are in the nightclub from 8pm till 4am!
2. KARAOKE in the front bar from 8 till late!!!

3. FREE BBQ in the courtyard at 10pm

For the real smart ones The University of The Newy will be taking applications all night for next years bachelor of turbo party!!!!
★★★★★★★★★★★★★
NIGHTCLUB 8pm till 330am //
KARAOKE 8pm till very late //
★★★★★★★★★★★★★
$6 DRINKS TILL 11PM
★★★★★★★★★★★★★
Relaxed dress regs // shorts are ok!
200m from Hamilton Train Station
139 Maitland Rd Islington
★★★★★★★★★★★★★
The Newy Hotel is a gronkfree zone
max vibes // good times

Newcastle Hotel practices the Responsible Service of Alcohol