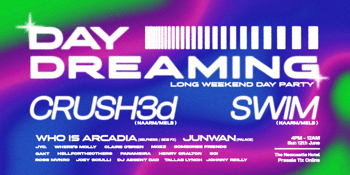 Daydreaming w/ CRUSH3d & SWIM
CRUSH3d & SWIM
The Newcastle Hotel (Islington, NSW)
Sunday, 12 June 2022 4:00 PM
✨💞DAYDREAMING💞✨
🍒June Long Weekend Day Party🍒
A daytime dance bringing the best local and international house & techno talent to Mulubinba/Newcastle.
For our second daydream we are joined our two of our fav Naarm / Melb based artists CRUSH3d & SWIM.
Once again we will be stepping up the game with a beefed up lighting rig and a brand new light show across both rooms.
$8 Espresso Martinis from 4pm till 6pm
This will be a dream you never want to end.
♡♡♡♡♡♡♡♡♡♡
🔮CRUSH3d (Naarm / Melb)🔮
Blending equal parts naughty and nice, CRUSH3d is taking the underground by storm with his unique brand of techno, house and hip hop. From playing alongside the likes of Skin On Skin and Willaris K, CRUSH3d has moved from strength to strength since his online release 'Welcome 2 The Party' was met with widespread acclaim by DJs and fans alike. His early tracks and unreleased IDs have regularly appeared in clubs and mixes around the world -including BBC Radio 1 Essential Mixes, Mix Mag shows, Rinse FM radio and HÖR Berlin streams.
Vibe check >> https://soundcloud.com/crush_3d
🐬SWIM (Naarm / Melb)🐬
SWIM is a Melbourne-based DJ, producer and engineer exploring spaces between techno, house, and emotive electronica. After a string of critically acclaimed independent releases SWIM is now touring across Australia in support of his latest EP 'Years On Years', performing and collaborating with fellow underground stars Pretty Girl, X Club, CRUSH3d and Skin On Skin.
Vibe check >> https://soundcloud.com/swimpdf
Supported by a stacked local line up:
✨DREAMLAND✨
Who Is Arcadia (Side Fx / Selfness)
Jun Wan (Palace)
Claire O'Brien
Jyc.
Where's Molly
Mozz
🦋SMALL CLUB🦋
Tallas Lynch
Henry Gralton
Soi
Gakt
ROSS MVRNO
Someones Friends
Joey Sciulli
HELLFORTHEOTHERS
Johnny Reilly
Panameria
DJ Absent Dad
♡♡♡♡♡♡♡♡♡♡♡
🥵Date: Sunday 12th June
💅Time: 4pm till 12am
🌺Location: 139 Maitland Rd Islington
💞Insta: @daydreaming_aus
😈Tix: https://bit.ly/daydreaming_june_tix
We acknowledge the Awabakal people as the traditional custodians of the land on which this event takes place. We pay our respect to the Awabakal Elders, past, present and future, as well as the Aboriginal and Torres straight people from other communities here today.
We have an allocation free tickets for First Nations people. No questions asked, please reach out.
There is a strict zero tolerance policy towards racism, homophobia, transphobia, sexism, ableism or harassment of any kind. Please report any unwelcome behavior to event staff or directly to the Day Dreaming page.