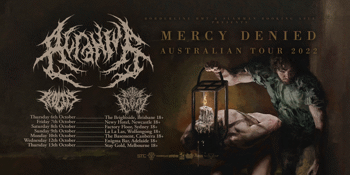 Acranius 'Mercy Denied Australian Tour 2022'
The Newcastle Hotel (Islington, NSW)
Friday, 7 October 2022 7:00 pm
Borderline BMT presents
Acranius
'Mercy Denied Australian Tour 2022'
w/ Zeolite & Alter Idem
German death metal sensations Acranius will be making their Australian debut this October, off the back of their latest creation 'Mercy Denied'. Renowned for their torturous and brutalized style of death metal incorporating deathcore and hardcore arrangements, the group is ravenous to bring their slam oriented and aggressively driven breakdowns to their Australian fans.
Signed to Rising Nemesis Records, 'Mercy Denied' makes the fourth full-length record in the group's impressive repertoire. Taking the world by storm and conquering charts all across the globe including appearances at Summer Breeze Open Air (DE) and Wacken Open Air (DE), Acranius have toured Europe, USA and Japan alongside heavyweights such as The Black Dahlia Murder, Ingested, Slaughter To Prevail, Defeated Sanity, Analepsy and many more. Boasting unsurpassed power and precision, 'Mercy Denied' is sure to pique the interest of the global metal community, Acranius will be taking their heavy, hammering, aggressive hooks and engaging live performances across all major capital cities this November.
Accompanying them are Australian death metal royalty Alter Idem and Zeolite. Describing their music as Technical, progressive, dissonant, and forward-thinking death metal, Alter Idem are set to take their diverse song structures, relentlessly fast rhythm section, aggressive vocals and high energy live shows on the road. Adding to the homegrown riffage, Zeolite will bring their groove oriented supercharged releases of jagged tension & distinctly dissonant take on technical death metal along for the ride.
Grab your tickets now for this death-metal auditory adventure intertwined with swathes of traditional deathcore and hardcore.