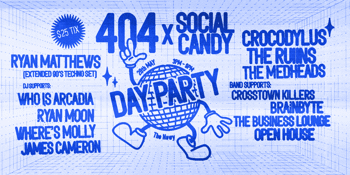 404 & Social Candy
404 x Social Candy Day Party
The Newcastle Hotel (Islington, NSW)
Saturday, 28 May 2022 2:00 PM
"Dance first. Think later. It's the natural order"
We present to you the first of a series of Day Parties hosted by Social Candy & 404.

Social Candy:
Crocodylus
The Ruiins
The Medheads
Crosstown Killers
The Business Lounge
Brainbyte
Open House

404:
Ryan Matthews (Extended 90s Techno Set)
Who Is Arcadia
Ryan Moon
Where's Molly
James Cameron

$7 Vodkas
$12 Espresso Martinis

$25 dollerydoos online

——————————————————————

Social Candy & 404 encourage diversity & self expression - This is a safe space for all. Any behaviour that suggests otherwise will result in immediate dismissal from the venue and a ban future parties.

The Ask For Angela Initiative: If you feel threatened or unsafe we encourage you to approach the bar staff and 'Ask for Angela'. Everyone has the right to enjoy a night out free from harassment and inappropriate behaviour. You can find out more information about the initiative here: https://plan4womenssafety.dss.gov.au/initiative/ask-for-angela/

——————————————————————

We have a limited number of tickets for people who are financially struggling - This a no questions asked basis, please hit us up.