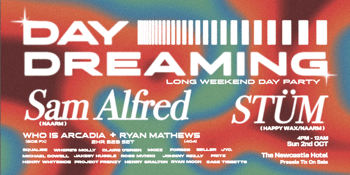 Daydreaming
Daydreaming w/ Sam Alfred & STÜM
Sam Alfred & STÜM
The Newcastle Hotel (Islington, NSW)
Sunday, 2 October 2022 4:00 PM
✨☁️DAYDREAMING☁️✨
October Long Weekend Day Party

A daytime dance bringing the best local and international house & techno talent to Mulubinba/Newcastle.
The speed limiter is officially OFF for our third daydream, this one is going turbo! We will be joined by two of our fav selectors, Naarm / Melb locals Sam Alfred & STÜM. The lads have been making waves locally and abroad with a string of heavyweight releases, XXL sets at Pitch Music Festival + supporting KETTAMA, jamesjamesjames & more.
We are turning the heat up in Club 27! The lads leading the charge in the local scene, Who Is Arcadia (Side Fx) & Ryan Matthews (404) are saddling up for a very special 2-hour back-to-back set. Plus the all disco, all vinyl courtyard stage is back with the big dawwg Forbes on the top of the bill!
8 hours of house, techno & disco across 3 stages.

$8 Espresso Martinis from 4pm till 6pm

Door tickets $25 if not sold out earlier.
(the last one sold out, don't sleep on tix)

This will be a dream you never want to end.

♡♡♡♡♡♡♡♡♡♡

🔮SAM ALFRED (Naarm)🔮
Moving up from Lutruwita to Naarm, Sam Alfred has swiftly carved a space for himself in the local scene. He's one of Melbourne's newest and most exciting DJs, known for mixing jazz-tipped house with deep cuts & UK garage.
With a signature house and techno sound that is reminiscent of the 90s. Sam has made a name for himself releasing music on amazing labels such as Love Above Records, Phenomena Records, Spinning Around and Happy Wax records. As well as supporting Kettama, Partiboi69, Gerd Janson, Dj Boring, jamesjamesjames at events such as Pitch Music Festival, Strawberry Fields, Lost Sundays, Xe54 & more. You will find yourself uncontrollably dancing and moving when Sam takes the stage slinging the finest house cuts and a rare selection of techno to get your heart racing.
Vibe check >> https://soundcloud.com/samalfred567

👅STÜM (Happy Wax / Naarm)👅
STÜM is a force to be reckoned with on and off the dancefloor, firing a barrage of elevated energy from all cylinders. Heavy Basslines and Intricate melodies follow in his wake as he takes the dancefloor on a journey through his trance inspired productions, leaving you only wanting more. With club weapon releases Sun Chaser & more recently WOWZA (as well as his extended catalogued) he has landed slots at Pitch Music Festival and a headline set at Xe54 as well as support for Kettama, jamesjamesjames, pretty girl & more.
Vibe check >> https://soundcloud.com/jack_stummer12345

Supported by a stacked local line up:

✨DREAMLAND✨
Claire O'Brien
Jyc.
Where's Molly
Mozz
Beller
Fritz

🦋CLUB 27🦋
WHO IS ARCADIA (Side Fx) B2B RYAN MATTHEWS (404)
Johnny Reilly
Equalise
Henry Gralton
ROSS MVRNO
Michael Dowell
Henry Whiteside
Project Frenzy
Sage Tibbetts

👽COURTYARD👽
Forbes
Moon
Whiteside
Dj Jakesy Hustle
No Passouts!

♡♡♡♡♡♡♡♡♡♡♡

🥵Date: Sunday 2nd October
💅Time: 4pm till 12am
🌺Location: 139 Maitland Rd Islington
💞Insta: @daydreaming_aus
😈Tix: www.daydreaming.party
We acknowledge the Awabakal people as the traditional custodians of the land on which this event takes place. We pay our respect to the Awabakal Elders, past, present and future, as well as the Aboriginal and Torres straight people from other communities here today.
We have an allocation free tickets for First Nations people. No questions asked, please reach out.
There is a strict zero tolerance policy towards racism, homophobia, transphobia, sexism, ableism or harassment of any kind. Please report any unwelcome behavior to event staff or directly to the Day Dreaming page.